News Archive
July - September 2007
Follow this link for the latest news!


Sign up to our 'Mailing List' for the latest news updates etc
september 6th 2007


John and John thoroughly enjoyed Wednesday's Bodog Finale at the LA, House of Blues. Fall from Grace eventually won Bodog's filthy lucre, but John and John were impressed by how ALL the bands played on the night. Congradulations are in order.
You can see some pictures of the show at Wire Image. The previously mentioned extended AOL / Spinner interview is now online.
september 4th 2007
(updated)


'Bodog Battle of the Bands' Final airs tomorrow Wednesday, September 5th, 7pm PT / 10pm ET, on Fuse TV. The show will be broadcast live from the Los Angeles, House of Blues.
If you missed anything, every episode of 'Battle of the Bands' is available free via the NEW Bodog TV website. Go to the Episodes page and select a city/episode. You can also watch an extended interview with John via their Johnny Rotten page.

Update: New interviews are now online at Wired.com and Los Angeles Daily News. Also look out for John on Current TV throughout Wednesday. More to follow…
september 1st 2007

The 'Bodog Battle of the Bands' Final airs this Wednesday, September 5th, 7pm PT / 10pm ET, on Fuse TV.
The Bodog TV website has been having some technical difficulties; and now has a NEW URL: http://www.newbodogtv.com/shows/battle/

A new interview with OK Magazine is now online. A brief interview is also available at AOL Music / Spinner; with a full interview to follow on September 6th.


You can now download John's full interview on KROQ, Loveline, via the Loveline website; which also has an additional video clip.
Thanks to Lauren Shand, Libby Henry & Jocelyn Vena
august 27th 2007

John will be appearing on the 'Fox Football Fone-In' tomorrow, Tuesday, August 28th at 8pm ET (5pm PT) on Fox TV Soccer Channel. Get your chance to ask John on the latest football happenings by calling 1-866-FOX-FANS, or by e-mailing [email protected].

He also has two US radio interviews scheduled for Tuesday. He is due to appear on the Joe Escalante morning show on Indie 103.1 FM at approx 8.15am PT (11.15am ET), and later Loveline on KROQ at 10pm PT (1am ET); call: 800-love-191 or email: [email protected].

John has been pre-recording other TV and radio appearances in preparation for the Bodog Battle of the Bands final in LA on September 5th; full details will follow when we can confirm broadcast dates.
august 24th 2007


You can now watch a video clip of John's appearance on 'Red Eye' via the Fox News website. If you missed the show keep an eye on Fox over the weekend for the repeat…
Thanks to Lindsay Carlton
august 21st 2007
(updated)

John will be appearing on Fox News, 'Red Eye' this Thursday/Friday, August 23rd at 2.00am ET / 11pm PT.
Joining John on the show will be Fox News producer Anna Gilligan, WWE Wrestler Rey Mysteria, Maxim Radio's gossip guru Samantha Judge, comedian Jon Laster and author Neal Pollack.
'Red Eye' is a Late-Night News talk show hosted by former Stuff and Maxim editor Greg Gutfeld. The show is an Hour-long, and airs daily at 11pm in the West and 2am in the East.
august 19th 2007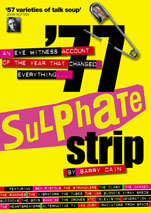 A feature length interview with John appears in the new book 77 Sulphate Strip by former Record Mirror journalist Barry Cain.
Using Record Mirror archives Barry takes a look back at the musical events of 1977; and brings the story up to date with a new interview conducted in LA last year. Barry first interviewed John when the Sex Pistols signed to EMI – though John has no memory of him! – and went onto cover various Pistols live shows through 1977; along with the US tour of 1978.
Be warned. The book doesn't solely concentrate on the Sex Pistols – but as you well know – Mr Rotten is no member of the "punk pack". There is the Sex Pistols and there is the rest… And there is Mr Rotten and there is the rest…
JohnLydon.Com heartily recommends you check out 77 Sulphate Strip. We guarantee you'll find a truly unique 30+ page interview with Mr Rotten. A heady mix of cantankerous mischief and content. Laced with revelations you won't read elsewhere. "57 varieties of talk soup" to quote the man himself.
77 Sulphate Strip is published by Ovolo Books and is available now.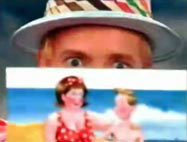 JohnLydon.Com would like to dedicate this video to Anthony Barnes…
august 6th 2007

He got his wish, he went splish, he went splosh. John Lydon goes diving in the Blue Water with the sharkies…

As promised, clips from 'John Lydon's Shark Attack' are now available via our Multi-Media section.
Big thanks to Debbie Colindale
july 26th 2007

To celebrate the 30th Anniversary of 'Never Mind The Bollocks' Virgin Records are releasing a series of stunning limited edition vinyl reissue replicas.
The Sex Pistols first four classic 7" singles – the only singles that really matter – will be released one a week throughout October; followed by the legendary 'Never Mind The Bollocks... Here's The Sex Pistols' LP.
'Anarchy in the UK', 'God Save The Queen', 'Pretty Vacant' & 'Holidays In The Sun' will be issued in heavy-weight paper sleeves featuring all the original iconic artwork.
'Never Mind The Bollocks' will complete the series; issued – just as it was originally released on October 28th 1977 – with the one-sided 'Submission' 7" single and 'NMTB' poster.
It's the proper bollocks!
Release Dates:
Anarchy in the UK / I Wanna Be Me - October 1st
God Save The Queen / Did You No Wrong - October 8th
Pretty Vacant / No Fun - October 15th
Holidays In The Sun / Satellite - October 22nd
Never Mind The Bollocks - October 29th
(with Submission 7" & poster)
See our sneak preview for more info…
Thanks to Sarah Vincent
july 11th 2007

'Bodog Battle of the Bands' starts today and runs weekly until September 5th on Fuse TV. 'Bodog Battle of the Bands' Wednesdays on Fuse TV 10pm EST / 7pm PST.
If you don't get Fuse TV – or you live outside the USA – you will be able to watch the show ONLINE free via the Bodog TV website. Check out the Episodes page of their site every Thursday (after 5.30pm PST;) and you can either watch or download each episode the day after it is first broadcast.
Site Updates etc.
News Archive.

Please Note:
The news archive below (1997-2004) comes from the
PREVIOUS John-Lydon.Com site
John-Lydon.Com
News Archive 1997-2004
January 12, 2003 - January 6th 2004
June 28th, 2001 - March 28th, 2002
October 15th, 2000 - June 27th, 2001
April 13th, 2000 - October 14th, 2000
October 27th, 1999 - April 12th, 2000
June 29th, 1999 - October 26th, 1999
January 28th, 1999 - June 28th, 1999
September 9th, 1998 - January 27th, 1999
June 5th, 1998 - September 8th, 1998
January 28th, 1998 - June 4th, 1998
October 26th, 1997 - January 27th, 1998
September 27th, 1997 - October 25th, 1997
August 18th, 1997 - September 26th, 1997
July 17th, 1997 - August 16th, 1997
June 18th, 1997 - July 16th, 1997
The opinions and views expressed on these archive pages are not necessarily the views of the present custodians…

News Page Picture Credits:
(Top to Bottom)

Bodog Battle of the Bands Final, House of Blues, September 5, 2007
© Wire Image / Myer
KROQ, Loveline, August 28th 2007 © courtesy Loveline
Fox News, Red Eye, August 23rd 2007 © courtesy Fox
77 Sulphate Strip © Ovolo 2007
John Lydon - Sun © Virgin 1997
John Lydon's Shark Attack © courtesy Objective Five 2004
Mr Rotten & Bif Naked © courtesy Bodog / Fuse TV


back to top