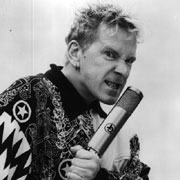 New York City, November 1, 1999 - Never mind the radio. Here's John Lydon, a.k.a. Johnny Rotten - live, online, and uncensored on eYada.com, the Web's all-star, all-talk powerhouse network. After exploding onto the scene with the notorious 70's punk band Sex Pistols, Lydon is bringing his anarchist attitude and wicked wit online with "Rotten Radio," the latest addition to eYada.com's stellar on-air lineup.

Beginning Saturday, November 6th, Lydon will beam his British bad-boy take on everything from political mayhem to pop culture from his newly-wired living room in Los Angeles.

Heard around the world, eYada.com is home to on-air personalities such as Richard Johnson, editor of the New York Post's "Page Six"; George Rush and Joanna Molloy, the Daily News' husband and wife gossip duo; Bob Berkowitz, former host of CNBC sex advice program "Real Personal," and Lionel, one of talk radio's top ten hosts.

"The Web is the perfect medium for John," said eYada.com president and CEO Bob Meyowitz, , who also created the groundbreaking syndicated rock radio show King Biscuit Flower Hour, "Not only can he reach his fans all over the globe, but he can be as outrageous as he wants to be. He can say and do anything he wants and that is what Web radio is all about. We're thrilled to have him join eYada.com's talent roster."

Since being banned by the BBC for his UK hit "God Save the Queen", Lydon has provoked controversy at any and every expense. After the Sex Pistols imploded in 1978, Lydon formed Public Image Ltd and recorded 10 hit albums in the 1980s. In 1994, Lydon wrote Rotten: No Irish, No Blacks, No Dogs, an autobiography that became a best seller in the US and went #1 in the UK. The Sex Pistols reformed for a 20th Anniversary tour in 1996.

eYada.com will Webcast Lydon's live program from his Los Angeles home every Saturday evening from 4-8pm EST.

About eYada.com
eYada.com http://www.eyada.com is the Internet's first all-star, all-talk network. Showcasing a stellar lineup of on-air talent, the network Webcasts live, original programming throughout the day from its studios in Manhattan.