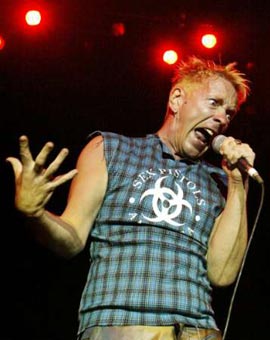 So you're going to Aussie then!
Listen, this is gonna be a hoot, a good fucking hoot! It could go wrong in so many ways that I'm just too tempted! You know every damn arsehole punk is gonna go 'Ooh that's not what punk is about' Yes it is! This is true anarchy! Setting myself up on rubbish like this? By doing a thing like this wrong, that's so fucking dangerous, I could so easily fall flat on my face. With all this so called 'celebrity' nonsense there is a danger you can take yourself too seriously. And that's the whole point, I'm not a celebrity, I'm just a human being... Last year to me looked fake, this time it's for real. I've called the shots, this is gonna be a good 'un. They can give it, but can they take it? I'll take on all contenders, but I'm up for a laugh, and if anyone else isn't that's their problem. What's two week's in a bush, fuck off, it's a holiday!
My money is on you! What do you win?

Well, you win a load of money which you send off to a charity, so Rambo found this great one for me. It's a 'wspa' [World Society for the Protection of Animals], save these little white monkeys that are being tortured and killed in Africa. It's lovely, 'cos every housewife is gonna go 'Oh that poor boy is saving those little monkeys!' (laughs) I might get a nature programme out of it! (laughs)
Yeah, Johnny Rotten & Johnny Morris!
That's how I'll go for it! It's how you approach it. You look at it on paper and you think 'Oh no, next I'll be on 'Celebrity Squares'! (laughs), but why not though? The only rules in this life, are there are no rules, and quite a few idiots have forgot that. No one wants me to do it, so all the more reason to be there. All my life I've been told not to do things, and when someone tells me not to do a thing, I have to question why? Why shouldn't I, why? Why push your values on me?

Do you know much about the other contestants?

There's a Lord in there with convictions as long as your arm (laughs), and the BBC's Royalty reporter! It's perfect, sit around the campfire and discuss Royalty with Royalty! (laughs) Gazza wouldn't do it, but I think that's because he's scared of me. You can print that! (laughs). That dopey bird Jordan, she can be really low rent, but she used to be the pin-up girl for Eddie Jordan at Formula 1. George Best's wife is gonna be on, I've got a connection there, I wanted her to thank her husband for giving my Mum an autograph years ago before she died, it was one of her wishes, that's very sweet. There was some guy from Boyzone who was gonna do it, he'd asked to bring his acoustic guitar along! (laughs) He wanted to write songs around the campfire at night! That would have been spectacular fun for me!

You should take a banjo!

Oh nooo! My Violin or something 'neeeeerrrrrrrr'! I could sing that old Edgar Broughton song (sings) "I love the dead before their cold, their glowing flesh for me to hold..." (laughs).

It'll give you good exposure to people who have never saw you on TV before, a whole new audience.

Listen, I'm just gonna be exactly who I always am, but I am up for that 'cos people have got me down as some anti-social whatever, and it's gonna be like NOOO... big surprise! I don't think anyone in the world is thinking I'm going out there just for the monkeys! Unless I'm a cheeky monkey too. It's a giggle, and look, I need to get Rotten TV back up, remind these cunts that there are people out there who can make a decent TV show.

Are you looking forward to the being in the Jungle! I saw on TV that some guy got ate by a crocodile at one of those watering holes!

Yeah, Salt Water Crocodiles they're particularly dangerous, but I don't wash! What's the problem? I'm not going near that duck pond, I'm as safe as houses me! I won't move for two weeks, I don't need food! No effort... It'll be like that daft film 'Crocodile Dundee', that's the landscape. Wait, it's just gonna be horrible, but why not? Don't let the Bed Bugs bite, well, they're gonna anyway. I might have an itchy bum, but that doesn't mean I can't have fun! They said you can have one luxury item, so I said 'Yes ok, I want a fully equipped Wall-Mart store!' They sell guns and everything (laughs)!

It seems the producers are trying to be all 'cloak and dagger' about it, apparently they wanted to fly you all out separately.

Look, what a load of rubbish, with all the names blasted out in The Sun! Are they joking me, what's the big secret? It's a lie, and I'm gonna expose every single fucking lie, because I will not sit there and propagate a fake. And I warned them that, I said if this is not the real dangerous deal, it's gonna be known, so now they're getting in SAS blokes to train us in survival! (laughs) I'll have the time of my life! They said, Have you any survival skills? 'No none at all!' Are you fit? 'Certainly not! And I have no intention of being!'

You're gonna be such a bolt out the blue, it'll just show up the 'celebs' for the absorbed fools they are!

I'll just be myself... as daft as a sack of potatoes! They show themselves up. They play the same Dinner Party nonsense, but in the jungle! And that's why they don't have survival skills, it's inner strength isn't it? 'Oh let's have a camp leader'. 'You've got to follow the camp rules', fuck off, I follow common sense dear (laughs)!

At least there will be something good on TV! It's gonna be too good!

It is if you approach it right. It's gonna be delicious, absolutely!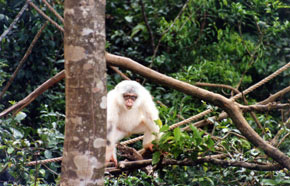 So when does it actually start then?

In the middle of January. They want to come over and film me beforehand, in a "home setting" so I think what I'm gonna do is have them in my studio and play them one of my new songs! (Note: John & John were later spotted falling down a hill in front of the famous Hollywood sign!)

So when is the official announcement?

Well, it's yours if you want it!

Right, John good luck, I might even vote for you!

Vote for the man you love to hate, make him suffer! Oh, no... if you throw me out you're cruel! I'm doing it for the little monkeys. Save the little monkeys, the furry white ones... !