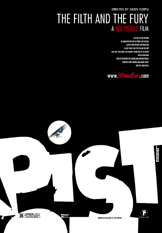 2000 FilmFour / Fine Line Films
103 minutes
Director: Julien Temple
The Filth and the Fury
A Sex Pistols Film
Paul Cook / Steve Jones / John Lydon / Glen Matlock / Sid Vicious.
"Only the fakes survive..."
'The Filth and the Fury' is the story of the Sex Pistols straight from the horses mouth. This is no act. This is no "rockumentary". The Sex Pistols are far from a straight rock n roll band, and they have a film that reflects that.
We were subjected to Malcolm McLaren's version of the Sex Pistols story with 'The Great Rock n Roll Swindle', now it's time for the truth. 'The Filth and the Fury' is a collaboration between the surviving Sex Pistols and director Julien Temple (who also directed 'The Swindle'). It should go without saying – but unfortunately it does – 'The Great Rock n Roll Swindle' or (worse still) 'Sid & Nancy' has NO reflection on how things were. This is how it really was…
Narrated with brutally honest (voice-only) interviews from the band, 'TF&TF' stylishly blends Sex Pistols archive footage together with 1970s TV and film. Only in this (sometimes weird and bewildering) context could you hope to have any idea just how different things were before the Sex Pistols; and just how badly they were needed. 'The Filth and the Fury' is a unique document of a unique band.
Currently available on DVD