Sign up to our mailing list for updates and track PiL via Bandsintown
Cruel World Festival – Brookside at the Rose Bowl, Pasadena, CA, USA, Saturday May 14th 2022 – SOLD OUT
Cruel World Festival – Brookside at the Rose Bowl, Pasadena, CA, USA, Sunday May 15th 2022 (on sale now)
Sinners Day Special, Oostende, Belgium, Saturday, June 25th 2022 (on sale now)
John Lydon – I Could Be Wrong, I Could Be Right Q&A Tour UK Autumn 2021
On tour now!
Meet'n'greets are still taking place, as planned. Covid protocols will be in place, at the instruction of the tour's promoter and health and safety officials, to ensure the safety of fans, crew and all involved. Clear signage will be displayed at the venues and we look forward to welcoming people to the tour.
Please see dates below, and please note Newport, Hull, Wrexham and Glenrothes are the only shows to be cancelled.
2020 tickets remain valid and will automatically be transferred across.
If in doubt, don't miss out…
Hastings, White Rock, September 7th 2021
Crawley, The Hawth, September 8th 2021
Dorking, Halls, September 9th 2021
Worthing, Pavilion Theatre, September 10th 2021
Camberley, Theatre, September 11th 2021 SOLD OUT
Kingston-Upon-Thames, Rose Theatre, September 12th 2021
Epsom, Playhouse, September 14th 2021
St Albans, Arena, September 15th 2021
Bedford, Corn Exchange, September 16th 2021
Ipswich, Corn Exchange, September 17th 2021
Bury St Edmunds, The Apex, September 18th 2021 SOLD OUT
Clacton-on-Sea, West Cliff Theatre, September 19th 2021
Port Sunlight, Gladstone Theatre, September 21st 2021 SOLD OUT
Sale, Waterside, September 22nd 2021 SOLD OUT
Lincoln, New Theatre Royal, September 23rd 2021 SOLD OUT
Bradford, St George's Hall, September 24th 2021
Leeds, City Varieties, September 26th 2021 SOLD OUT
Bristol, St George's, September 28th 2021 SOLD OUT
Wimborne, Tivoli, September 29th 2021
Yeovil, Westlands Main Hall, September 30th 2021
Bournemouth, Pavilion, October 1st 2021
Basingstoke, The Anvil, October 3rd 2021
East Grinstead, Chequer Mead, October 4th 2021
Warrington, Parr Hall, October 6th 2021
Lytham St Anne's, Lowther Pavilion, October 7th 2021 SOLD OUT
Burnley, Mechanics, October 8th 2021
Crewe, Lyceum, October 10th 2021
Stafford, Gatehouse, October 11th 2021 SOLD OUT
Whitley Bay, Playhouse, October 13th 2021 SOLD OUT
Huddersfield, Lawrence Batley Theatre , October 14th 2021
Northallerton, The Forum, October 15th 2021 SOLD OUT
Scarborough, Spa Theatre, October 16th 2021
Durham, Gala Theatre, October 17th 2021 SOLD OUT
Lancaster, Grand Theatre, October 18th 2021 SOLD OUT
Falkirk, FTH Theatre, October 22nd 2021
Kilmarnock, Grand Hall, October 23rd 2021
Greenock, Beacon Arts, October 24th 2021
Glasgow, Pavilion Theatre, October 25th 2021
Yarm, The PAA, October 26th 2021
Leicester, De Montfort Hall, October 29th 2021
Chesterfield, Winding Wheel, October 30th 2021
Shrewsbury, Theatre Severn, October, 31st 2021
Birmingham, Town Hall, November 1st 2021
Dudley, Town Hall, November 3rd 2021
Tewkesbury, Roses Theatre, November 4th 2021
Loughborough, Town Hall, November 5th 2021
Carmarthen, The Lyric, November 6th 2021
Cheltenham, Pittville Pump Room, November 7th 2021
Porthcawl, Grand Pavilion, November 8th 2021
Exeter, Corn Exchange, November 10th 2021
Bridgwater, McMillan Theatre, November 12th 2021
London, Union Chapel, November 13th 2021 SOLD OUT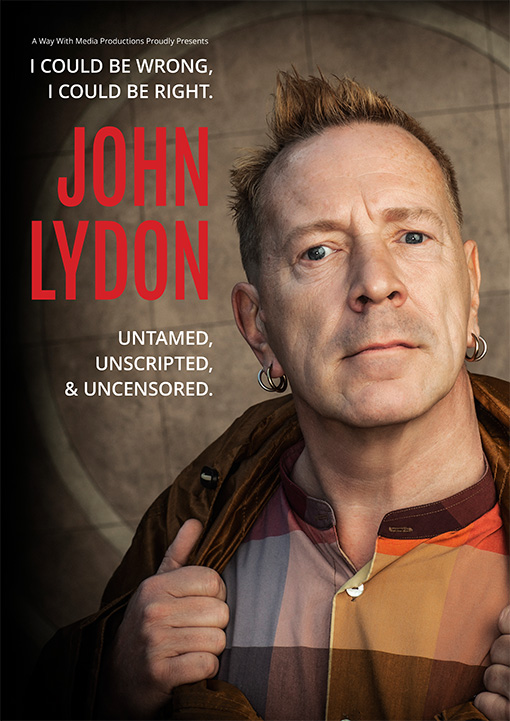 JohnLydon.Com
Mailing List
John Lydon – I Could Be Wrong, I Could Be Right Q&A Tour UK  2021…