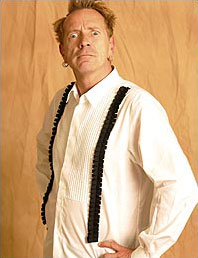 I WAS terrified when I turned up for an interview with punk legend John Lydon. The former Sex Pistol unsettled the entire nation in the Seventies as Johnny Rotten when he sneered: "I am an anti-christ" - and he's still shooting from the lip at the
age of 49.
Fortunately, it's not me he wants to have a pop at, just a long list of celebs from Jordan to Pete Doherty -and even Sir Bob Geldof. He is particularly scathing about Jordan, one of his jungle companions on I'm A Celebrity... Get Me Out Of Here! And her forthcoming wedding to pop star Peter Andre.
John snipes: "It's disgusting. I haven't had an invite and I'm glad. This is not a marriage based on love. It's just an event sponsored by Granada television and OK! magazine. "I can't believe anyone would be so cheap as to marry for a career move. "It's all a stunt and they will get hurt."
John is passionate, witty and intelligent. His brain jumps from one subject to another in fits and it is hard to keep up. In January last year he took a huge gamble when he went in for I'm A Celebrity. Yet it paid off. His childlike enthusiasm and reactionary opinions gripped viewers. And, strangely, he ended up as a house-wives' sweetheart.
John says: "I had everything to lose. But my wife Nora said to go in and be myself. "And I was. Suddenly I'm the new Queen Mum. I have found a whole new world of sex. Lock up your grannies! "It's ridiculous. I'm supposed to be Rotten - hardcore. But now I'm a bit of a pin-up for the housewives. Nothing wrong with that. It's because I'm real, not a lying, cheating, two-faced, conniving hypocrite. "Now I don't have to change my underwear and that's seen as charming."
John walked out of the jungle in the final days of the show and never really explained why at the time. Now he claims it was because he started to like his fellow celebs - but didn't like the fact they were in competition. John explains: "When it came to voting people out I felt upset for them. I didn't want that. I said we should stick together. All threaten to leave or no one goes at all. That's when. I lost interest. "I might be Rotten but I'm a nice bloke. I don't step on someone's face to steal from them. I can't stand to see people rejected."
The former Sex Pistol has hardly spoken in public for 18 months, so when we meet he is bursting with things to get off his chest. He is furious with old punk pal Sir Bob Geldof for implying The Sex Pistols would play at Live 8. He says: "Our names were touted around. And it looks like we turned it down, But the truth is I wasn't asked. "I don't know what shock value he was trying to get by mentioning us. But I'm glad. It was a very shoddy and weak production anyway.
"And there weren't enough black faces in the show for my liking. I don't think it achieved anything. I think Sir Bob is too self-serving. "I don't like this attitude of trying to guilt us into doing something. That's the terror tactics of the Nazi party." He adds: "Bono, Sting and Bob have formed this ridiculous blessed trilogy - stop preaching, please. "Every time I see Bono in those big fly glasses and tight leather pants I just can't hack it. I can't see that as solving the world's problems, "He's crushing his testicles in tight trousers for world peace."
John has not got much time for junkie ex-Libertines star Pete Doherty, either-and is terrified he will die like Pistols bass player Sid Vicious. He says:" All I can say is good luck to him. It's a hard life anyway. "He's made a decision to play this drugs game. But I haven't seen many survivors. And I don't want to see him become another stupid' rock death. "Pete - calm down a little and start checking yourself. You're not impressing anyone. You're depressing."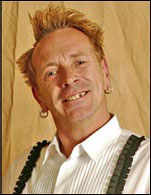 John has just put together a new album, The Best of British £1 Notes, a retrospective on his career from the Sex Pistols to Public Image Limited and his solo material. And the man who once called the Queen a "moron" is even re-thinking his opinion of Britain. He says: "There's something quite stirring for me now about the Union Flag. It's not a racist symbol. It has unified us as a multi-cultural society for some time. "And I think football hooligans are the most misunderstood patrons of British tradition. Years ago, as an Arsenal lad, what chance of survival did you have of supporting your team when they played up north? Zero. "There would be ten thousand maniacs waiting at every train station to rip your head off. "The biff culture is what's made it safe for today's stockbrokers to travel to these far-off northern towns. "I understand it. Hooligans were the true anarchists, It wasn't as vicious as it was portrayed. These lads only fight each other."
John is much less tolerant of the present terrorist threat in Britain, though. The singer, who was born and bred in Finsbury Park, North London, decided to take matters into his own hands last week. He turned up at the notorious Finsbury Park mosque' near the family home where his father still lives. John says: "I paraded my big bad self outside that mosque. I wanted to know what the opening hours were. But the two police outside weren't too happy with my line of questioning. I was challenging them to arrest me. I have every right to go into a religious building."
Next year is a big date for Sex Pistols fans. It's the 30th anniversary of the high point of punk in 1976. But you will not see John involved. He says: "Punk was for all of us. To liberate us. The idea of an anniversary of a so-called movement is repulsive."
Although he is approaching 50, John still has that punk attitude. And he is still smoking and drinking. He says: "I'm not asking anyone to buy me a new set of lungs. But I've no intention of stopping now." It seems that this particular Pistol is still firing on all cylinders.

JOHN'S new compilation album, The Best Of British £1 Notes, will be released on October 3.