News Archive
January 2006 - March 2006
Click here for the latest news!
John Lydon.Com
Best of British £1 Notes mini-site:
Tracklistings, release info, reviews, an in-depth interview with John,
plus much, much more. Just click a sleeve…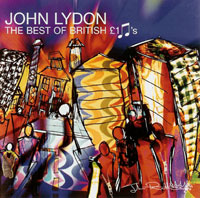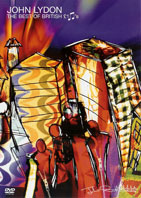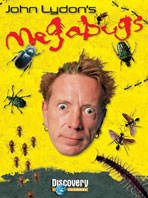 click sleeve for full info…


Sign up to our 'Mailing List' for the latest news updates etc
march 18th 2006


John will be appearing on US satellite radio station SIRIUS Faction this Tuesday, March 21st at 2pm (Pacific Time) (5pm Eastern).
The interview was pre-recorded last Friday, but SIRIUS are promising to air John "unrehearsed, unscripted and completely uncensored."
SIRIUS is a commercial-free subscription only service, however, you can also listen online, and they offer a free 3 day trial.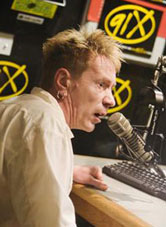 San Diego 91X FM have a selection of pictures from Mr Rotten's recent visit on their website.
If you missed the hilarious interview their site will be providing some audio clips in the near future; so keep an eye out.
John was on superb form. He had promised he had some things to say and he certainly didn't disappoint. More of a friendly takeover than an interview, John was on air for nearly 3 hours, completely dominating the proceedings. 3 hours of fun and anarchy – in true Rotten style!

march 15th 2006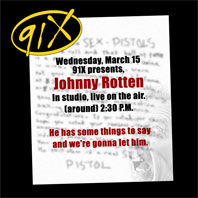 John will be appearing live on San Diego radio station 91X FM today, March 15th, at approximately 2.30pm (Pacific Time) (10.30pm GMT). 91X is available to listen live online via their web site.
John of course, recently helped the station with its official relaunch, now, he's going to pay them a little visit…
Check out 91X online via their website; and see our Radio section for more information on John's involvement with the station…

march 13th 2006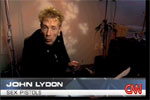 You can watch a video of John's interview with CNN at the CNN.com website.
No Anarchy in New York
CNN's Brooke Anderson on the Sex Pistols' planned no-show at their induction into the Rock and Roll Hall of Fame. (March 12)


You can also see some thumbnails of
John and Steve
from Friday's
Jonesy's Jukebox
at the
WireImage website
.
Thanks to Kristine Ashton

march 11th 2006

An interview with John regarding the Rock N Roll Hall of Shame will be broadcast on CNN in the US tomorrow, Sunday, 12th March, sometime between 8pm and 9pm (Pacific Time). The interview will air again at various times on Monday throughout the CNN network: including CNN International & CNN.com.
He has also been interviewed by The Daily Mail in the UK (more info soon).



As you may have saw on the Jimmy Kimmel Show, John should have appeared in the new issue of Rolling Stone magazine, including the front cover, but it was mysteriously pulled in favour of a Two Cowboys movie. Seems very strange after promises were made, pictures were taken and journalists were flown. Isn't that a Hall of Shame?

march 6th 2006

John will be appearing on Steve Jones radio show this Friday, March 10th. Jonesy's Jukebox airs on Indie 103.1 FM, 12-2pm (Pacific Time) (8-10pm GMT), and is available to listen live online via their web site, and also through iTunes Radio.

february 24th 2006


The Sex Pistols have just released an official announcement regarding the Rock n Roll Hall of Fame…
Click HERE to read the official statement
Follow this link to download 300 dpi high resolution file of the statement (544kb)

february 19th 2006

John is interviewed in today's Observer Music Monthly magazine. Pick of the quotes? "The internet bores me to tears." The magazine also features a '1976: Year Zero' special looking at the Pistols and punk.
You can read John's interview via the OMM website, however, it's worth getting hold of a copy of The Observer to see the accompanying photoshoot; shot in LA last December…

february 13th 2006

John will be making his Valentines Day selection on this week's
ITV, Orange Playlist
, February 15th, 11.30pm.

february 2nd 2006

The March 2006 issue of
Mojo
magazine – featuring an in-depth interview with John – is on sale now. Various news agencies have picked up on John's comments about the
possibility
of a Sex Pistols show in Japan. Of course, those paying attention would have noticed similar comments in his recent webchat with
The Sun
.

february 1st 2006

Unfortunately if you didn't tune in on Tuesday, January 31st, 2006 you missed our one-day only "
Special Presentation
".

The February 2006 issue of Motoring and Leisure magazine featuring an interview with John is on sale now. You can also read the interview online at the M&L website.

january 23rd 2006

january 15th 2006

John appears on the ITV, Orange Playlist this Wednesday (Jan 18th, 11.55pm), where he will be picking five of his favourite songs. Expect to be surprised… The show will also be repeated on ITV2, and VH1 in the near future.
Update: ITV2 will be repeating the show this Friday Jan 20th, at 8pm.


Just to clear things up – despite what lesser websites and news agencies have been reporting – as we stated on January 4th, John Lydon will not be presenting a show for San Diego radio station 91X but has recorded various supportive voiceovers and quotes which the station will be using.

News Archive
Non 'news related' site updates are featured on the Admin Message Board.

Please note this part of the news archive comes from the previous John-Lydon.Com site. Therefore it will have a different appearance and style etc to the current site. Although all images should load fine, given the age of the features, maybe not all external links will work. If you spot anything that you think can be fixed just let us know...

John-Lydon.Com
News Archive
January 12, 2003 - January 6th 2004
June 28th, 2001 - March 28th, 2002
October 15th, 2000 - June 27th, 2001
April 13th, 2000 - October 14th, 2000
October 27th, 1999 - April 12th, 2000
June 29th, 1999 - October 26th, 1999
January 28th, 1999 - June 28th, 1999
September 9th, 1998 - January 27th, 1999
June 5th, 1998 - September 8th, 1998
January 28th, 1998 - June 4th, 1998
October 26th, 1997 - January 27th, 1998
September 27th, 1997 - October 25th, 1997
August 18th, 1997 - September 26th, 1997
July 17th, 1997 - August 16th, 1997
June 18th, 1997 - July 16th, 1997
The opinions and views expressed on these archive pages are not necessarily the views of the present custodians…
back to top