News Archive
January 2007 - April 2007
Follow this link for the latest news!


Sign up to our 'Mailing List' for the latest news updates etc
Follow this link for the
latest John Lydon releases
april 6th 2007

ChartAttack in Canada have posted a recent interview with John regarding the Bodog Battle of the Bands.
More info on the March trip to Canada can also be found on the Bodog Beat website.
march 22nd 2007

You can now watch the whole of John's March 19th "NewsStand" interview on 'The Hour' via the CBC website.

Another Canadian interview from March 9th on 102.1 The Edge is also available as a 2 part video clip via the Dave 'Bookie' Bookman page on The Edge website; which also features a selection of pictures from the interview.
Both interviews are available as 'favourites' on 'RottenTube' our highly recommended JL.Com YouTube channel. We really do spoil you!
Thanks to Andy Phillips at CBC, and Bookie at The Edge
march 18th 2007


John is interviewed on CBC Television, 'The Hour' this Monday, March 19th, at 11pm. Viewers outwith Canada can watch the whole interview via 'The Hour's' website. The interview should also be available soon as a Video Podcast and through YouTube.
An archive interview with John also featured on the final broadcast of CBC, Radio 3, 'Saturday Night Show', yesterday March 17th.
While in Canada John did other radio and press interviews so keep your eyes peeled…
Thanks to Andy Phillips
march 15th 2007

You can read some of John's quotes, regarding his recent visit to Canada with the Bodog Battle of the Bands, on the ChartAttack website.
"Judging these bands isn't easy," notes Lydon with distinct sincerity. "We were taught the lesson that we're messing with people's lives. You end up being more careful on their behalf not to ruin their lives than you would with your own."
"We love these bands because they write their own songs," grumbles Lydon. "Anyone who has enough guts to stand up on a stage and perform original art deserves our respect and approval."
"It's so easy to cast things off as not being good, but when was the last time you put your fear aside and did something creative in front of others? This is a positive thing? these bands are afforded a lot. The only time I was ever on television in my time was when I was going to jail."
Read the full article on ChartAttack…
With thanks to Keith Carman and ChartAttack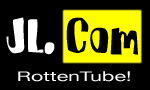 We've just added a selection of new videos to our JL.Com YouTube channel 'RottenTube'. New additions include 'Bronx Bunny' 2003 & 'Richard & Judy' 2005.
See Multi-Media for more info on RottenTube…
february 24th 2007

John with Nelson W. Winbush
© courtesy The Baker County Standard
The Baker County Standard, Fri, 23 Feb 2007
Rock legend visits Olustee
This year at the Olustee Reenactment not only did the Yankees show up but the British made an appearance as well. John Lydon, aka Johnny Rotten, lead singer of the punk rock group the sex pistols and Public Image LTD., attended the Olustee festival this year. Mr. Lydon was here in Baker County to document and film the festivities and battle reenactment.
Rotten Productions, Mr. Lydon's production company, attended the reenactment as part of a six series production that Mr. Lydon is filming of events around the United States.
Mr. Lydon found out about the battle reenactment from Nelson W. Winbush, who is a life member of the Sons of the Confederate Veterans. Mr. Winbush, a resident of Kissimmee Fl., was contacted by Rotten Productions about a segment of the series concerning alligators. During the conversations, Mr. Winbush suggested that Mr. Lydon come to Olustee and view the reenactment.
After the reenactment performance, Mr. Lydon said that "he was very impressed with the events of the reenactment, but was most impressed with how friendly Southerners are and the solidarity and pride in their heritage that they exhibit."
Mr. Lydon's next stop was Kissimmee, Florida on Sunday to film a segment on saving the Florida alligators.
With thanks to The Baker County Standard
february 4th 2007

A new interview with John – regarding the making of the 'Never Mind the Bollocks' album – is featured in the March issue of Mojo Magazine; out now. The interview was conducted last year with Mojo's Pat Gilbert.
january 31st 2007

Who is Bodog?, we don't know either. But we do know John doesn't like decaffeinated teabags… Read all about it here…
january 5th 2007
(updated)


John will be appearing in the new 3 part series 'Meaning of Life' on BBC1. The first episode airs Sunday, January 14th at 10.15pm.
"I don't think anyone is religious. I don't deep down inside believe it. I think they're desperate and lonely and clinging to some vague hope that there's some meaning to all of this. There is, but it's 'get out the bloody house'."
Update: More information about the series, including quotes from John can be found in this article in The Independent.

Viewers in America should look out for John giving it some rabbit with Bronx Bunny and Teddy T in the new US version of 'The Bronx Bunny Show'. The series should air on the Starz Movie Network sometime in the near future.
Site Updates etc
News Archive

Please Note:
The news archive below (1997-2004) comes from the PREVIOUS John-Lydon.Com site.
John-Lydon.Com
News Archive
January 12, 2003 - January 6th 2004
June 28th, 2001 - March 28th, 2002
October 15th, 2000 - June 27th, 2001
April 13th, 2000 - October 14th, 2000
October 27th, 1999 - April 12th, 2000
June 29th, 1999 - October 26th, 1999
January 28th, 1999 - June 28th, 1999
September 9th, 1998 - January 27th, 1999
June 5th, 1998 - September 8th, 1998
January 28th, 1998 - June 4th, 1998
October 26th, 1997 - January 27th, 1998
September 27th, 1997 - October 25th, 1997
August 18th, 1997 - September 26th, 1997
July 17th, 1997 - August 16th, 1997
June 18th, 1997 - July 16th, 1997
The opinions and views expressed on these archive pages are not necessarily the views of the present custodians…

News Page Picture Credits:
(Top to Bottom)

John & John arriving at 102.1 The Edge, Dave Bookman Show, Canada, March 9th 2007 © courtesy The Edge
John with George Stroumboulopoulos, CBC The Hour © Courtesy CBC
John with Nelson W. Winbush at Olustee Reenactment, Florida, February 2007 © courtesy The Baker County Standard
BBC1, Meaning of Life, January, 2007 © Courtesy BBC

back to top