News Archive
June 2007 - July 2007
Follow this link for the latest news!


Sign up to our 'Mailing List' for the latest news updates etc
Follow this link for the
latest John Lydon releases
july 6th 2007

'Bodog: Battle of the Bands' sneak preview airs this Sunday, July 8th at 10pm EST / 7pm PST on Fuse TV.
The 10 part series then premiers Wednesday, July 11th, 10pm EST / 7pm PST. See Fuse TV for full listings. Watch the preview clip via the Bodog TV website.
Mr Rotten talks at length about 'Battle of The Bands' in our new JL.Com interview: "I'm fully into making them grasp the fun they can have out of life if they get this right. I'm not up there as a judgemental prat, that isn't my way. I'll judge them later when it comes to what record will I go out and buy…"

John
has an entertaining
interview
in the current – 10th Anniversary – issue of Uncut
m
agazine.
Congra
d
ulations.
july 2nd 2007
All the latest direct from the horses mouth:
• Rolling Stone: Never Trust a Hippie with a laptop
• Bodog Battle of the Bands: The Revolution Will Be Televised!
• Plus, much more…
june 25th 2007

A radio version of '7 Ages Of Rock' begins today, Monday, June 25th, on BBC 6 Music. The series promises to feature interview material not included in the TV broadcasts. Wednesday's show will feature John. Lets hope there is not the same New York bias as the TV series… Cheese and chalk.
You can listen live online via the 6 Music website; where the show will also be archived. '7 Ages Of Rock': Wednesday, June 27th, 9:30pm (GMT).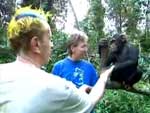 JohnLydon.Com is delighted to bring you video clips from 'John Lydon Goes Ape'. 3 highly entertaining snippets are now available via our Multi-Media section. 'John Lydon's Shark Attack' also coming soon…
Big thanks to Debbie Colindale
june 15th 2007


Bodog Battle of the Bands sneak preview premiers on Fuse TV, Sunday, July 8th at 7pm PST / 10pm EST.
Watch the preview clip on the Bodog TV website. "The revolution will be televised!"

Look out for John in this weekend's Sunday Mirror (UK). Update: You can now read the full article via the Sunday Mirror website…
june 12th 2007
(updated)

Despite what was reported in The Daily Mirror Friday, June 8th, John Lydon is not about to release a "reggae" album. Talking about his musical influences the previous day on Ian Wright's Talksport radio show John commented: "I love reggae to death but that don't mean I'm gonna pump out endless white-boy reggae beats. It would sound a bit hokey dokey wouldn't it…"

If you missed John's interview with Ian Wright last Thursday you'll be pleased to hear we are working with Talksport to bring you some clips. But yes. When asked. John did mention the possibility of some Sex Pistols shows at Xmas…
Update: You can now listen to the WHOLE of John's interview with Wrighty via the Talksport website!
Thanks to Steve Morgan

You won't see any mention on the front cover – and it is over a year too late (see News March 11th 2006) – but you'll find a 2006 interview with John in current issue of Rolling Stone magazine. What a load of Bollocks…
Site Updates etc
News Archive.

Please Note:
The news archive below (1997-2004) comes from the
PREVIOUS John-Lydon.Com site
John-Lydon.Com
News Archive 1997-2004
January 12, 2003 - January 6th 2004
June 28th, 2001 - March 28th, 2002
October 15th, 2000 - June 27th, 2001
April 13th, 2000 - October 14th, 2000
October 27th, 1999 - April 12th, 2000
June 29th, 1999 - October 26th, 1999
January 28th, 1999 - June 28th, 1999
September 9th, 1998 - January 27th, 1999
June 5th, 1998 - September 8th, 1998
January 28th, 1998 - June 4th, 1998
October 26th, 1997 - January 27th, 1998
September 27th, 1997 - October 25th, 1997
August 18th, 1997 - September 26th, 1997
July 17th, 1997 - August 16th, 1997
June 18th, 1997 - July 16th, 1997
The opinions and views expressed on these archive pages are not necessarily the views of the present custodians…

News Page Picture Credits
:
(Top to Bottom)
Mr Rotten & Bif Naked
© courtesy Bodog / Fuse TV
Rolling Stone: issue 1028 © Jill Greenberg 2007
John Lydon Goes Ape, November 2004 © courtesy Five
Bodog Battle of the Bands © courtesy Bodog
back to top