News Archive
November 2007 - February 2008
Follow this link for the latest news!


Latest confirmed Sex Pistols 2008 live dates…
Follow this link for the latest John Lydon releases…
Sign up to our 'Mailing List' for the latest news updates etc
february 20th 2008

Latest confirmed Sex Pistols European Festival Date:
RED stage, Novarock Festival, Pannonia Field, Nickelsdorf, Austria: Friday, June 13th 2008. Contrary to reports elsewhere the Pistols are headliners. Obviously.

february 12th 2008

Latest confirmed Sex Pistols European Festival Date:
Lokerse Festival, Lokeren, Belgium: Saturday, August 2nd 2008
february 11th 2008

Latest confirmed Sex Pistols European Festival Date:
Paredes de Coura Festival, Portugal: Thursday, July 31st 2008
february 4th 2008

Following on from the previously mentioned Isle of Wight & Loch Lomond shows we can now confirm the following Sex Pistols 2008 Festival Dates:
Fields of Rock Festival, Holland: Saturday, June 21st 2008
- CANCELLED
Peace & Love Festival, Sweden: Friday June 27th 2008
Exit Festival, Petrovaradin Fortress, Serbia: Sunday, July 13th 2008
january 10th 2008

In regard of reports of a Sex Pistols pantomime. Oh no he's not. The Sex Pistols are Music Hall, not pantomime.
january 7th 2008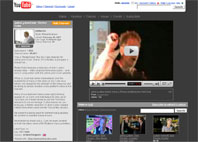 As previously promised, you can now watch the FULL (uncensored) Guitar Hero III press conference via JL.Com's YouTube channel 'RottenTube'.
The footage was filmed by sex-pistols.net and edited by JL.Com; and is a further link up with both sites; on the back of our recent 'Over the Garden Fence' article.
Thanks to Phil Singleton / GSTSP

John has a new interview in the December issue of Harp Magazine in the USA. You can also read the interview online via the Harp Magazine website.

We've added a selection of recent press interviews with John from the likes of Q, Spin, News of the World & The Telegraph.
The image gallery's have also been overhauled and updated. To view gallery's you will now need (free) Flash Player software…
december 16th 2007


Sex Pistols Take The High Road Again!
Live at Loch Lomond Festival, August 3rd 2008
Fresh from their hugely successful Holidays in the Sun grand finale at Glasgow SECC the Sex Pistols will be taking the high road to Scotland again in 2008.
JL.Com can confirm the Pistols will be headlining the 'Live at Loch Lomond' Festival, in Scotland, Sunday, August 3rd 2008. See the 'Live at Loch Lomond' website for ticket info etc. The Sex Pistols on the banks of Loch Lomond, proper British culture!
december 15th 2007


JohnLydon.Com has teamed up with Sex Pistols fansite 'God Save The Sex Pistols' (Sex-Pistols.Net) to bring you a FULL transcript – and behind-the-scenes article – from John's Guitar Hero III press conference at the Hoxton Square Bar in Shoreditch, London, 7th November 2007.
Follow this link to read the first ever joint JohnLydon.Com / Sex-Pistols.Net article!

The Isle Of Wight Festival has now officially sold-out. The Sex Pistols will be headlining on Saturday, June 14th 2008.
december 9th 2007


John is interviewed in the January issue of US mens magazine Details. An extended version of the Q&A also appears on the Details website.
december 6th 2007


On Virgin Radio this morning John confirmed the Sex Pistols will be headlining the Isle of Wight Festival on Saturday, June 14th 2008.
There's a difference between things being announced, and things being confirmed. i's have to be dotted, and t's need to be crossed. Now they are. Stay tuned…
Tickets go on sale tomorrow, December 10th, at 0900 (GMT). See the official Isle Of Wight Festival website for more information.

This mornings Is-le of Widget / Dictator of the Week Virgin Radio interview is now available as a podcast via the Virgin Radio website.
december 5th 2007
(updated)


John will be doing some rumour controlling on Virgin Radio Thursday morning, December 6th, at approx 0700 (GMT).
He will then be 'addressing his nation' with frequent appearances throughout the day, so keep an ear out. You can listen online via the Virgin Radio website.
UPDATE: Oops! Due to a breakdown in communications at JL.Com (something got lost in the translation!) John's Virgin Radio interview is actually Thursday morning, and NOT Wednesday as we originally stated. Oops! Apologies to the early birds.
november 30th 2007

Looks like someone let the cat out the bag, but yes, the Sex Pistols will probably be headlining some major festivals next year. Sweden and Isle of Wight have already been announced. Which is news to Mr Rotten.

More talks are underway, and as soon as you can hear it from the horses mouth, you will.

Until then as John would say, you can peace off…
november 29th 2007


What we did on our holidays (cont'd)… We've added a further selection of UNSEEN pro-shot pictures from sunny Brixton, Manchester & Glasgow.

Sex Pistols: Holidays in the Sun Image Gallery

Special thanks to Dave Wainwright & Duncan Bryceland. More soon…
november 20th 2007
Thanks for coming on holiday with us.
A jolly good time was had by all.
Mr Rotten belongs to Glasgow. And Manchester. And London.
Maybe see you next year…
Tiddely-om-pom-pom
JohnLydon.Com
Site Updates etc.
News Archive.

Please Note:
The news archive below (1997-2004) comes from the
PREVIOUS John-Lydon.Com site
John-Lydon.Com
News Archive 1997-2004
January 12, 2003 - January 6th 2004
June 28th, 2001 - March 28th, 2002
October 15th, 2000 - June 27th, 2001
April 13th, 2000 - October 14th, 2000
October 27th, 1999 - April 12th, 2000
June 29th, 1999 - October 26th, 1999
January 28th, 1999 - June 28th, 1999
September 9th, 1998 - January 27th, 1999
June 5th, 1998 - September 8th, 1998
January 28th, 1998 - June 4th, 1998
October 26th, 1997 - January 27th, 1998
September 27th, 1997 - October 25th, 1997
August 18th, 1997 - September 26th, 1997
July 17th, 1997 - August 16th, 1997
June 18th, 1997 - July 16th, 1997
The opinions and views expressed on these archive pages are not necessarily the views of the present custodians…

News Page Picture Credits:
(Top to Bottom)

Las Vegas, The Joint, USA: Saturday, June 7th © Sex Pistols Residuals 2007
Brixton Academy, Thursday, November 8th 2007 © Sex Pistols Residuals 2007 /
Brit Awards, Wednesday, February 20th 2008 © PA
Live at Loch Lomond Festival, August 3rd 2008 Advert
Guitar Hero Press conference © Phil Singleton / www.sex-pistols.net
Details Magazine, photograph © Lise Sarfati 2007
Brixton Academy, Monday, November 12th 2007 (photo: David Wainwright) © Sex Pistols Residuals 2007



back to top